School Board
To enable parents and members of the community to engage in activities that are in the best interests of students and support the future direction of the School, Malibu School has its own independent School Board. We are fortunate and grateful to the ongoing support, dedication and leadership provided by each of our School Board members, both past and present.
The School Board comprises of the Principal, five elected parent representatives, four elected staff representatives and five community members.
Principal – Merrilee Wright
Parent Representatives – Jason Biffin, Matthew Griffin, Leanne Stewart, Jennifer Baggaley, Tarryn Coleman
Staff Representatives – Natasha Miller, Jane Mills, Tiffany Brunswick, Shelly Whittal
Community Representatives – Yvonne Peters (Chairperson), Aaron Spice
Parent and Staff Representatives are elected within Term 1 of the School year and will hold office for a period of two years from the time of the election. Nominations are called for and Nomination Forms distributed by the school during the start of each year.
The School Board's main functions are to ratify the priorities for school development, to ratify the school budget and to support the Strategic Directions of the School as outlined in the School's Business Plan.
School Board Terms of Reference
Introducing our School Board members
Malibu School is grateful for the support and Leadership of those who support the school's directions through roles on the School Board. We are grateful for their time and personal experience to shape our planning to the benefit of our students, staff and families.

Yvonne Peters – Community Representative, School Board chair
Yvonne is a grandparent of a student who attended Malibu School from Pre-Primary to Year 12, who graduated in 2020. She has been involved in a voluntary capacity at Malibu School since 2014 through roles on the School Council, School Board and the weekly Girl's Club. Previous to this, Yvonne worked for the Education Department as a School Register in a local Education Support Centre.

Yvonne is passionate about Malibu School and the wonderful outcomes achieved. What makes Malibu School so special for her are the students, the dedicated staff and the supportive parents and carers. She is proud to be part of such a wonderful community and we are grateful for her experience, knowledge and leadership.
Jason Biffin – Parent Representative

Jason has been a part of the Malibu School Community since his son Kayden joined the school in 2018 and he believes Malibu School is the best school for Kayden's needs and that he has thrived! Jason, a fulltime wharf worker is also father to Kayden's two older sisters Chelsea and Kaitlyn. Jason joined the school board to 'help the school and the kids and to put his two cents worth in'. Jason feels that as a parent at Malibu you feel part of the community and that every staff member makes you feel welcome. He especially loves the events that Malibu School runs such as the Navy Christmas party and ANZAC ceremony. When asked what he likes about the Malibu School Board, Jason feels that everyone can have their say and that everyone's opinions are valued.
Tarryn Coleman – Parent Representative
Tarryn lives in Port Kennedy and has a daughter, Isla who attends Malibu. They have been part of the Malibu family since Isla was in Primary, and Tarryn has seen first hand how her daughter has flourished at the school. Tarryn works full time for the City of Rockingham in Community Development and has always wanted to give something back to the school that has played such a big part of her daughter's life.
Tarryn is hoping to truly represent the best interest of our children and their carers/parents in all the decisions that come before the Board. She enjoys applying her creative thinking skills to problem solving and suggesting new and innovative ways of working together to provide the best outcomes.
Jennifer Baggaley – Parent Representative

Jennifer has lived in Rockingham since she was 5 years old, she still resides in her local community with her GP husband and 4 children (ranging in age from 5-20 years old).
As a primary school student, Jennifer visited Malibu School many times, but it wasn't until they adopted their youngest daughter that she discovered the true magic of 'Malibu'. From the first day that they attended the 'Little Stars Playgroup', Jennifer knew it was the perfect school for them, since then she has become very passionate about Malibu school, its staff, students and supporting it any way that she can.
Jennifer has a background in education, she holds a BA in Psychology and Linguistics, but has spent the last 20 years focusing on being a Mum. However, Jennifer believes that her university studies have taught her excellent written and verbal communication skill. Since adopting a disabled child of another race, Jennifer has found herself coming into contact with people from varied areas and backgrounds. Jennifer frequently finds herself undertaking the roles of advocate (on Akuch's behalf), educator (regarding adoption/race/disability), administrator (in dealing with the NDIS & other agencies) and net worker (with other adoptive families & parents of special needs children), to name but a few.
By nature, Jennifer is a very organised, reliable, detail orientated, & task driven person, which she believes are ideal qualities that could be well utilised in a position on the School Board. Adopting Akuch, has also led Jennifer to discover a new passion for learning Key Word Sign!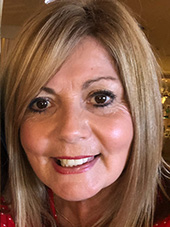 Jane Mills – School Representative
Jane has been a member of the Malibu School staff for 23 years, during which time she has been proud to work as an Education Assistant in a variety of areas ranging from Pre Primary to her current position in charge of the on-site learning in Malibu Café. Within this role, Jane is responsible for supervising students engaged in the program, to work alongside different teachers to follow instructions to help each individual student achieve educational outcomes. Jane is responsible for all aspects of work from the management of stock, safety and hygiene, cooking and cash handling. She has always strived to be a friendly, confident, productive and trustworthy team member and is currently on the school's Health and Wellbeing staff committee. In her personal time, she enjoy keeping busy with a variety of interests including photography, cooking, reading and arts and crafts. She stays fit using yoga and general exercise. As a School Board member Jane will continue to work towards the highest levels of commitment within the school as stated by our values 'A future without limits'.
Malibu School welcomes Aaron Spice, Community Development Coordinator for APM Communities, partner in the NDIS to the Malibu School Board as one of our Community Representatives. Aaron has over 17 years' experience in the Disability sector, starting his career at Malibu School as an Education Assistant. Aaron shares a deep understanding our families through his own lived experiences shared with his family members with disability. Aaron is generous with his time and in addition to his full-time role with APM Communities and service to Malibu School, he is the Vice Chair for the Peel Volunteer Resource Centre and a member of the City of Mandurah Access and Inclusion Advisory Board for over 6 years. Aaron has attended many of our whole-school events, cheering on the students and providing opportunities for families to catch up and seek information and answers to NDIS questions. Aaron is proud to offer his time and support to our Malibu School community and we are delighted to recognise and welcome him as a valued member to our School Board.